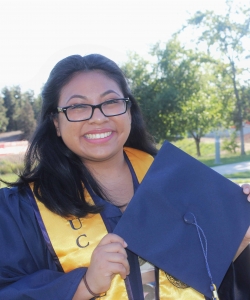 What are your plans upon graduation?
I will be an Orientation Leader for the summer, because I want to welcome new students and share my own success story.  I was accepted to the University of San Francisco's museum studies program, but I will be taking a gap year to gain work experience in the museum field. I will be returning to Los Angeles to work in a cultural institution.
How has your experience at UC Merced prepared you for future endeavors?
UC Merced has given me the tools I need to be successful as a person and a student. The connections I have made with professors and fellow students have exposed me to more opportunities than I could have ever imagined. Thanks to the small class sizes, I was able to get to know my history professors very well and feel comfortable asking them for advice. CCPA workshops, mock interviews, and other services have given me the tools to be a competitive applicant in any endeavor I choose to undertake. I am very grateful for the vast opportunities available at UC Merced. 
Were you part of any clubs, organizations while at UC Merced?
I joined the Historical Society at UC Merced as a first-year, because I wanted to be with like-minded individuals who shared my passion for history. The organization is relatively new, but it has grown immensely since its introduction to the campus. As a financial officer and now vice president of the club, I have helped provide university students with the opportunity to attend graduate school workshops, museum trips, and learn about a variety of career paths available to history majors. We have also worked with the Merced County Courthouse Museum to build bridges between the campus and the city's native inhabitants. 
These organizations have given me the opportunity to develop the leadership and communication skills I will use in my life after UC Merced. 
What research opportunities have you taken part of at UC Merced? 
UC Merced has been an amazing environment filled with research opportunities for undergraduate students. As a curatorial intern at the UC Merced Art Gallery, I have designed and installed exhibitions that benefit the camps community and raise awareness for important issues. Despite being an undergraduate, I have already been published in the Undergraduate Historical Journal at UC Merced. I have also served as an editor for the Undergraduate Historical Journal helping other students publish their own research articles. As a research assistant for Professor David Torres-Rouff, I  have produced notable research materials that will help map Chinese communities in Merced. This research work is another example of how UC Merced is actively working to build connections and contribute to the city of Merced and its citizens.  
How do you feel you're leaving your mark at UC Merced?
I have left my mark on UC Merced by being a role model for others and sharing my success story with future students. I am a first-generation, undocumented student who is graduating with high honors. I hope that my success at UC Merced will inspire others to believe it is possible to succeed as well. It is my desire to leave a legacy that many aspire to but only few surpass.