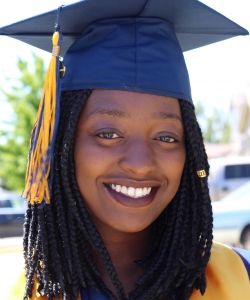 How has your experience at UC Merced prepared you for future endeavors?
While at UC Merced, I have had opportunities to grow as a leader while working with my fellow students and also through my student assistant positions as a peer academic advisor, orientation leader, USTU peer instructor, and student ambassador. Through these experiences, I have been able to challenge myself by taking on leaderships roles while continuously excelling academically. These experiences have allowed me to gain an array of skills along the way that have led to my professional and personal growth. Lastly, I have been able to make incredible connections with people who remain supportive of my next steps.
Were you part of any clubs, organizations while at UC Merced? 
I am one of the founders, as well as president, of Afrikans for Retention & Outreach (AFRO) for the past three years. I have also been an active member of Black Student Union, African Student Union and Distinguished Ladies. 
How do you feel you're leaving your mark at UC Merced? 
I am leaving my mark through my contributions to creating a more equitable UC Merced. Alongside my amazing team, we have built AFRO to increase the retention and four-year graduation rates of black students. We have had incredible success such as opening AFRO Hall, a living and learning community. Our structure, which includes AFRO Hall, a mentoring program, weekly study sessions, academic and professional development workshops as well as unity events, has been a model mirrored by other student organizations on campus. The increase in the enrollment, retention, and four-year graduation rates of black students attests that our goal for academic excellence has been successful. AFRO has continued to flourish and expand and we now have an incredible team carrying on our legacy.