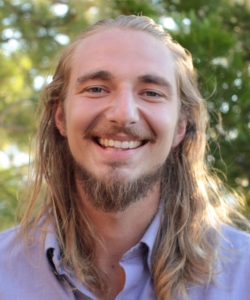 What are your plans upon graduation? 
I am working this summer as a river guide at Rock-n-Water, where I take kids rafting, rock climbing, and hiking so they can grow through adventuring in nature. I am the summer staff manager and have been working there since I was 16. After the summer, I plan on finding seasonal field work.
How has your experience at UC Merced prepared you for future endeavors? 
Through UC Merced, I learned so much about myself and my capabilities. My professors were passionate about their subjects and enjoyed what they were doing. That showed me that ESS was the right major for me, and got me to study hard. I have good grades because of that and a lot of knowledge about my field. Their passion rubbed off on me. I am excited to graduate so that I can make a difference and reduce human impact on the environment. Also by working in the office of admissions as a student ambassador, I have been able to learn public speaking, charismatic conversations, and how to be a friendly representative of UC Merced. I learned how to find work and learn skills to make myself more valuable. 
Were you part of any clubs, organizations while at UC Merced?
I have been on the cheer team for the past four years. 
What research opportunities have you taken part of at UC Merced? 
I went on the California Ecology Conservation course last fall and that helped me gain lots of experience in the scientific process. I learned how to conduct research out in the field and was able to learn real world applications of my major. 
How do you feel you're leaving your mark at UC Merced?
I enrolled at UC Merced because it is a small, growing school, and I wanted to be a part of that. I got heavily involved with cheer and worked hard to improve it so that it can go from a club sport to athletics team. I am really passionate about improving things and because of that I worked hard to leave UC Merced with a better cheer team than when I started. While we are not under athletics yet, I know I did all that I could and played my part to improve it so that soon it will be.